Andy Murray will now be the new world number one on Monday after Milos Raonic withdrew today prior to their Paris Masters semi-final. While that may or may not be deserved depending on your point of view the end point is that he's not the best player this year and that's simply a fact.
In 2009 the ATP rebranded itself as the ATP World Tour. Alongside that they also introduced tiers in the importance and size of events, the smallest tour events became ATP 250 events (in which the winner got 250 points). Growing in size there is also ATP 500 events, Masters 1000 and Grand Slams. The reason the rebranding of events and the tour turned out to be so successful was perhaps partly down to how simple the ranking system became. Even now for example these last few months with Novak Djokovic and Andy Murray competing for the world number one position it was rather simplified a lot knowing what Murray had to do on his behalf with the points on offer being well known. Winning the Masters 1000 event in Shanghai gave him 1000 points and then the ATP 500 event in Vienna, 500 points. Simple for the fans and players and everyone else involved.
But that's exactly the issue with the ranking system, just because something is simple doesn't mean it works effectively. For the last few years we've been rather fortunate, almost every year a player has set out to win two or three majors and signal to the rest that he's the best. In turn that player would get the number one ranking as deserved, Roger Federer in 2009, Rafael Nadal in 2010 and 2013, Djokovic in 2011 and 2015 and so on.
Andy Murray is below Novak Djokovic in terms of major achievements in 2016
I want to start off with the most obvious point. This year the Serb won two majors and the Brit one. If majors are the pinnacle of our sport as we hear day after day, then that alone means Djokovic has had a better year. Sure, just winning two majors doesn't really mean a player has been consistent throughout the year but then in Djokovic's case he more or less has been as shown below.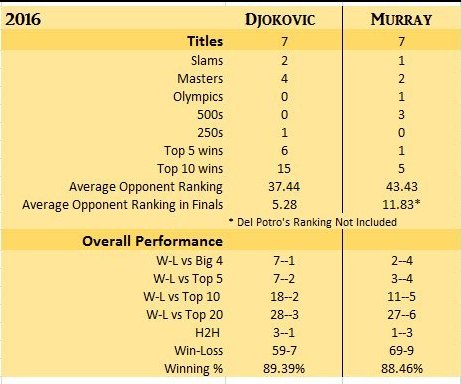 Even if Murray wins this week's Paris Masters he would still be trailing Djokovic this year in both Slams and Masters yet he would be the world number one. A rare case where the best player for the year statistically isn't occupying that space near the end of the season. This is totally ignoring the far superior players Djokovic has had to beat en route to his seven titles. Meanwhile Murray has had to beat just one top five player en route to all of his seven, perhaps eight if he wins the Paris final tomorrow against John Isner. In my mind and many other minds Djokovic is the best player in the world. The statistics show it but unfortunately the ranking system does not. But here are some proposed changes I have to counter such a thing.
Promote Serial Winning
If someone wins two majors in a year they should be rewarded for it, they shouldn't be considered two separate events giving 2000 points each. If anything there should be additional points for such a great achievement. Like I said before majors are the pinnacle of the sport and the rewards for winning them should be far greater than it currently is if you're holding more than one at a current time.
Extra Points in Relation to Players Beaten
While it is not up to the player to decide who they're going to play against there are obviously times where a player will seemingly get lucky or unlucky. The ATP actually used to have additional points for beating higher ranked players but scrapped it 15 or so years ago. But my point is how can someone like Novak Djokovic only get 2000 points for beating Kei Nishikori, Roger Federer and Andy Murray back to back at the Australian Open this year (two top five players) while Andy Murray gets the same for winning Wimbledon without facing a single top five player?
Less Small Events on the Ranking
Sure ATP 250 and 500 events make up the tour but at the same time why should they matter much to those at the very top of the game? Their rankings should be based off the biggest events, Majors and Masters. As it currently stands those who finish in the top #30 the previous season get to take their best six 250/500 events on the ranking. Why not for the top 10 change to best two or three events? Would put a real premium on winning and performing in the Slams and Masters.
The Olympics and the Davis Cup
That is just a few ways I think the ranking system could improve. Sure implementing these would get rid of the simplicity we currently have but at the same time it would be a true reflection of the real rankings in tennis. While people will say it's unfair Murray didn't get any points for winning the Olympics, is it really? For example the Spanish and French have many top players, many who missed out on the Olympics, for example Feliciano Lopez, due to compatriots being ranked higher. Had these players been from another country they would have gotten the chance to represent their country and earn points. Not being able to gain points due to being from a country with many top players while being a top player yourself would be rather unfair if anything. Meanwhile with the Davis Cup for example, giving points altogether is the same. Just look at Robin Soderling many years ago where due to a lacklustre team he couldn't achieve much.
I have nothing against Andy Murray. Congratulations to him and his fans on such a great achievement. However it is the way he's gotten to the top position I have an issue with. If he had a better year than everyone else and won a few more majors then I would truly believe it was well deserved and take my hat off to him. But as it stands to avoid this happening in the future the ATP needs to change the way its ranking system operates as it is a false reflection of reality.
Credit to @CindyBlack3 for the stats table.
Main Photo: